Positive development and exciting nomination for innovation
Sales at Railway Metrics and Dynamics (RMD) have started to pick up and the company has exhibited at a number of important trade shows this spring. In addition, the company's innovation portfolio has been nominated for a European innovation award.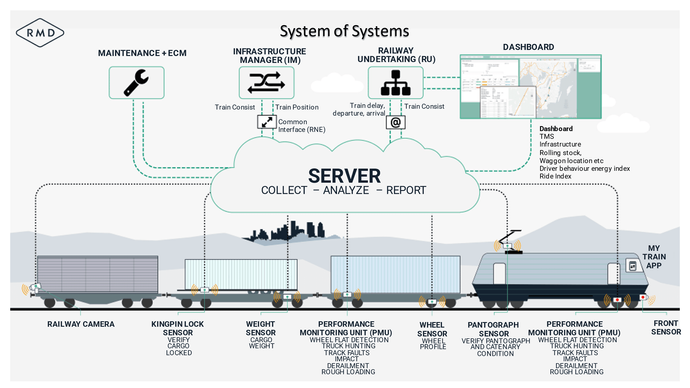 For smaller companies, it is not uncommon for sales growth to take a little longer than expected, but this could be the start of a steeply rising sales curve (see analysis from 8 May 2023). At the same time, the size of the company's system solution has also increased.
In the first quarter of 2023, the company participated in two important trade fairs, Train & Rail in Stockholm and Transport Logistic in Munich, where it received a lot of interest in its existing and future technology portfolio.
• When is the next opportunity to network at exhibitions and do you have any plans for the near future?
"It won't be in the near future, but we will certainly be exhibiting at smaller exhibitions during the coming autumn and winter," says Jan Lindqvist, CEO of Railway Metrics and Dynamics AB.
• RMD has recently been nominated for the prestigious European ERCI Innovation Awards together with industry colleague Strainlabs. What does this kind of recognition and quality label mean for your innovation work and sales strategy?
"Yes, it's clearly an important event and a seal of approval that shows that our platform strategy is right on time as Europe begins the full digitalisation of the railways," says Jan Lindqvist and continues:
"Our platform is a unique ecosystem that can best be described as a system within a system. In simple terms, it is a collection of task-oriented and uniquely dedicated systems that together form a new, more complex system that offers even more functionality and performance than the sum of the individual systems." (See attached image)
• In May, RMD reported that the railway camera had been implemented in a unique pilot project with Swiss freight car supplier Wascosa. The aim of the project is to optimise the use of ballast. Can you tell us more about this and when we can expect the results of the project?
"We should see the result of this project and a very exciting development in late autumn or early winter," says Jan Lindqvist.
• What is RMD's strategy for increasing sales?
"We are building on our platform according to the 'system within a system' strategy. In this way we can create several different products and services that attract different customer groups and work together," says Jan Lindqvist.
"It is with systems within systems that we can really speed up digitalisation. Because we work with open standards, the company can work with all the other systems in Europe."
"Sometimes other systems become part of ours and sometimes our platform becomes part of something bigger. The benefits of the systems are not just for individual wagon owners, but for the whole system. This is true digitalisation," says Jan Lindqvist.
• Can you describe which products are currently in RMD's product portfolio and used on trains in service, and which products are expected to be added in the near future and are at an early stage of development?
"We have developed and expanded our products (sensors) over the last eight months according to the "system in the system" strategy (see attached picture). This has been done in record time together with the Swedish Transport Administration to adapt them to both rolling stock and infrastructure," says Jan Lindqvist.
"The heart of our system platform is the PMU sensor. It identifies movement patterns in real time and measures acceleration in three dimensions. All these movements are verified using unique algorithms. The more data collected – and the more PMUs installed – the better the analysis and the more efficient the system."
"The PMU sensor is available in several versions. The new basic version with a solar cell (see picture below) is now being rolled out in parallel with the older version (which is installed on more than 100 wagons). In September, PMU sensors for pantographs and locomotives will also be available," says Jan Lindqvist.
"The basic version of the railway camera is now being tested with several customers with great success. It is a really exciting product. We're also planning to develop a version with a few more features that customers have requested, such as a microphone and speakers and machine reading of signals, but this will be a long-term project."
"The load lock sensor is still under development but is expected to be ready early this autumn. This sensor is also very exciting and will be an important part of improving safety via IoT on the railway."
"The weight sensor has shown in studies that the patent-pending technical solution works very well. We are developing prototypes during the autumn and already have several enquiries."
"The wheel profile sensor, for which we have filed a patent application and which will be developed in 2024, will revolutionise the maintenance of railway wheels."
The Railway Metrics and Dynamics quarterly report is expected to be published on 25 August 2023.
This is exactly what the Swedish company Railway Metrics and Dynamics, which is a contracted supplier to the Swedish Transport Administration for innovations in the measurement of the railway system from railway vehicles, is doing.
read more