RMD nominated for European railway innovation award
Railway Metrics and Dynamics AB (RMD) has been nominated for the prestigious ERCI Innovation Awards together with industry colleague Strainlabs.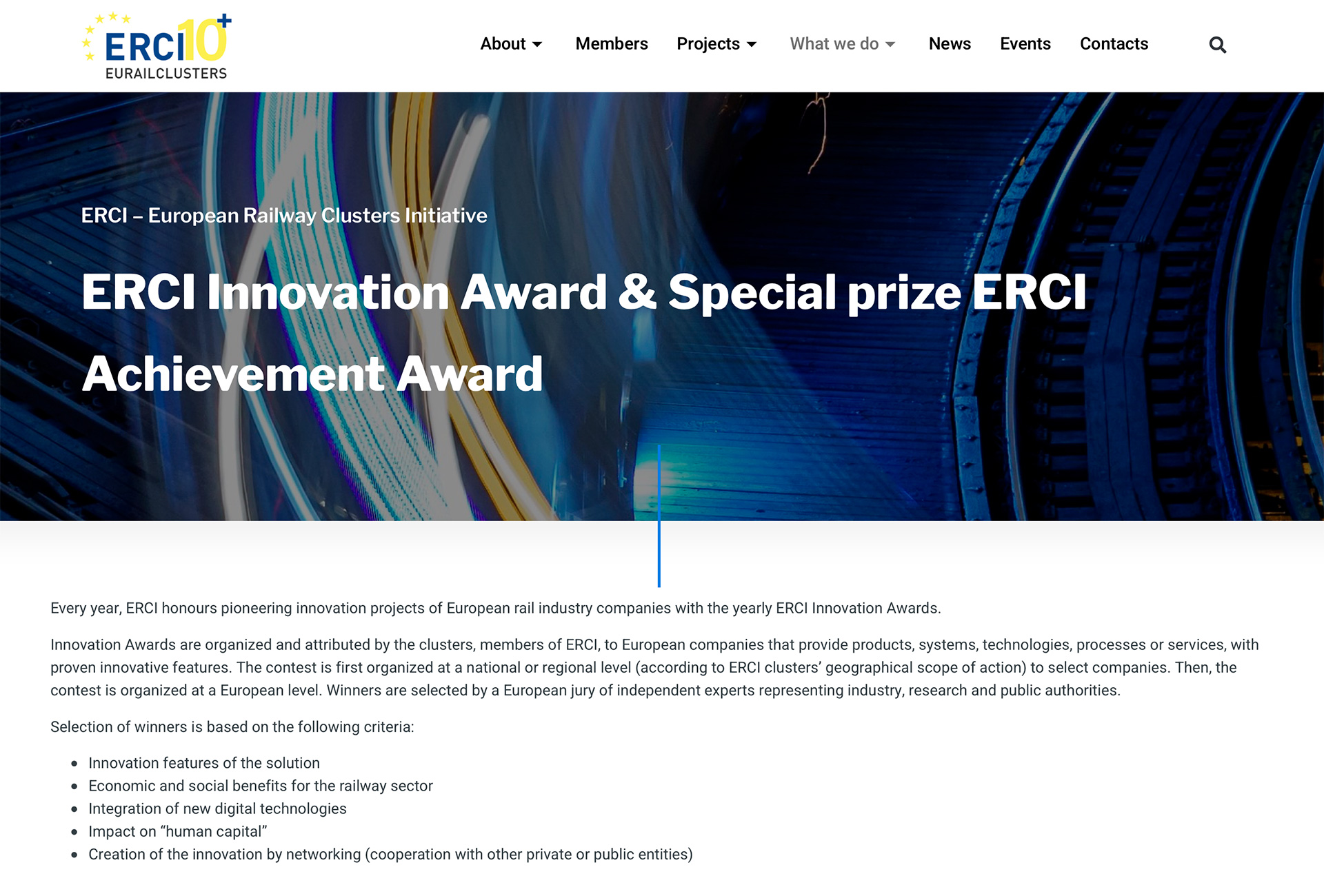 Every year, ERCI honours pioneering innovation projects of European rail industry companies with the yearly ERCI Innovation Awards.
The ERCI Innovation Awards are awarded annually by the European Cluster Railway Alliance (ERCI) and are a significant honour in the railway sector. The award aims to recognise companies and projects that have demonstrated exceptional technological development, research and innovative solutions in railway-related fields.
Nomination as follows:
"It is with great pleasure that the Railway Cluster of Sweden has nominated Railway Metrics and Dynamics AB for the ERCI Innovation Awards, an international award competition organised by the European Railway Cluster Initiative. Railway Metrics has pioneered significant advances in areas such as predictive maintenance and risk assessment. Their impressive efforts have enabled early detection of potential problems and increased operational safety. With its innovative approach and strong commitment to improving the reliability and efficiency of rail transport, Railway Metrics and Dynamics has proven to be an important part of the development of the railway industry. We are delighted that Railway Metrics and Dynamics will represent Sweden at the ERCI Innovation Awards, which will take place during TRAKO fair in Gdansk, Poland, in September 2023. Their pioneering solutions and commitment to the railway sector are incredibly inspiring. We congratulate Railway Metrics on their well-deserved place among the nominees for the ERCI Innovation Awards."
Thanks to the nomination, RMD now has the opportunity to showcase its unique platform to a wide audience of railway companies and experts.
"Our platform enables rail transport to operate with increased efficiency, safety, punctuality and profitability. The nomination is further proof of this," says Jan Lindqvist, CEO of Railway Metrics and Dynamics AB.
RMD develops and sells a unique platform for analysing and monitoring both rolling stock and infrastructure in real time.
"Our innovations are well rooted in the railway industry and make it possible to manage all types of assets proactively and predictively," says Jan Lindqvist, CEO of Railway Metrics and Dynamics AB.
The ERCI Innovation Awards are organised first at national or regional level and then at European level. The winners are selected by a European jury of independent experts representing industry, research and public authorities.
Railway Metrics and Dynamics AB was nominated by the Swedish Railway Cluster for the European level of competition.
The selection of the winner is based on the following criteria:
Innovative characteristics of the solution.
Economic and social benefits for the railway sector.
Integration of new digital technologies
Impact on "human capital".
Creation of the innovation through networking (co-operation with other private or public entities).
Read more about the award here.
This is exactly what the Swedish company Railway Metrics and Dynamics, which is a contracted supplier to the Swedish Transport Administration for innovations in the measurement of the railway system from railway vehicles, is doing.
read more